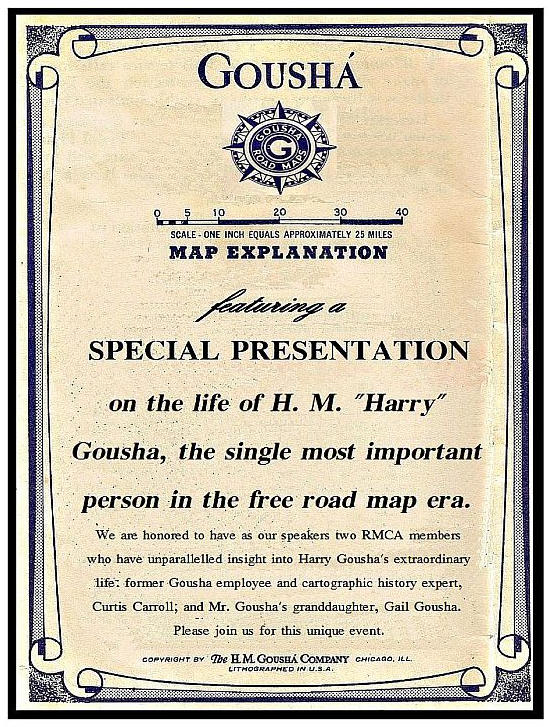 The one name, above all others, most associated with American road maps and road map collecting is H.M. Gousha. In its 70 years in business, the H.M. Gousha company printed over three and a half billion maps and atlases for hundreds of customers. Yet, very little is known about the early history of the company and even less about its founder, Harry Mathias Gousha II. In our presentation at the upcoming Road Map Collectors Association West Coast map meet, we'll reveal how Harry Gousha entered the map business and track his early successes at Rand McNally & Co notwithstanding the glass ceiling that existed at Rand McNally at the time. We'll also cover how Gousha left Rand McNally to courageously start his own road map company, where he first rode the wave of prosperity in the Roaring Twenties and then struggled to keep it afloat through the Great Depression. Plus, we'll identify two important mentoring figures who made Gousha's successes possible, and the 1935 event that brought stability to the business but also resulted in Harry Gousha leaving the company he founded at the young age of 48.
The Road Map Collectors Association is privileged to have as speakers to RMCA members who probably know more about the life of Harry Gousha and the history of the H.M. Gousha Company than anyone else alive today. Our speakers are: former H.M. Gousha Company employee and cartographic expert, Curtis Carroll, and Gail Gousha, Mr Gousha's granddaughter.
We hope that you will join us for this unique presentation on October 27, 2012 at 3pm in the University of the Pacific's Jacoby Center, Stockton, California. Admission to the event is complimentary. Directions can be found on the page of maps showing how to get to the event.