Master Catalog of Mexican Oil Companies that Issued Road Maps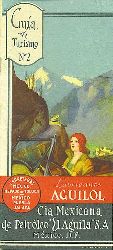 Among the most enduring icons of 20th Century travel are the free roadmaps that motorists picked up at gas stations they stopped at during their road trips and vacations. These roadmaps not only served as essential navigation tools during their journeys but also as cherished souvenirs long after the trips were over. Mexican oil companies were quick to pick up on the power of roadmaps as promotional items. As a result, over the years, many Mexican oil companies issued roadmaps. Although the era of free maps has passed, in recent years, oil company roadmaps have become highly desirable collectable items.
The history of how Mexican oil companies issued roadmaps differs somewhat from that of other parts of North America. This is because the Mexican oil industry was nationalized and the assets of all foreign oil companies were expropriated and combined into a state-owned oil company in 1938. Specifically, commercial oil extraction, refining, and marketing in Mexico was started around 1917 by subsidiaries of several American and British companies. Not long after, many American and European oil companies were operating subsidiaries in the Mexican marketplace including Esso, Shell, Sinclair, Chevron and Socony-Vacuum. All this new-found petroleum wealth soon attracted the attention of the Mexican government which subsequently claimed all mineral rights, including oil, for the state as part of a revision to its Constitution. In 1938, citing the revised Constitution, President Lázaro Cárdenas expropriated all Mexican petroleum resources and facilities for the state, nationalizing the American and Anglo-Dutch operating companies that had dominated the market, and combined all their assets into a new state-owned oil company–Pemex. As a result, Mexican oil company issued road maps can be divided into pre-1938 maps, and post-1938 maps. All of the pre-1938 maps were issued by subsidiaries of foreign oil companies. Most post-1938 maps were issued by Pemex and its marketing subsidiaries. However, by the 1950s, a few American oil companies were able to import their products into Mexico and market them through Mexican-owned distributors. Some of these distributors issued roadmaps.
At the time most Mexican oil company roadmaps were issued, nobody gave any thought to the possibility that they might some day become collectable. As a result, unlike coins or stamps, there has never been a definitive list of what oil companies issued roadmaps and when they issued them. This catalog has been created to help fill that void, intended to serve as a resource to guide people who are interested in roadmaps or roadmap collecting.
This version of the catalog is a free tool for anyone to use for non-commercial purposes. It is tailored for new map collectors as well as for non-collectors who come into possession of old roadmaps and want to learn more about them. It is set up so that a person who has a map, but doesn't know anything about oil companies, can look up a name on the map and find information about it on the list. The format is simple and easy to use. The list contains three columns. The first column alphabetically lists company names and brand names that major and regional oil companies are known to have issued roadmaps under. Because it lists both company names and brand names, many companies are listed more than once. This was done intentionally to make it easier for a person to find relevant information no matter what name on the map is used to search. The second column lists the first and last known date of issuance for each company/brand. The third column is intended to provide context, with comments and cross-references.
Please note that many American oil companies also issued maps of Mexico and/or parts of it. This catalog is of Mexican Oil companies that issued roadmaps. While many are subsidiaries of American corporations, all are Mexican companies. To find information on an American oil company that issued a map of Mexico, please reference the Master Catalog of American Oil Companies that Issued Road Maps, also on this website. The American catalog will eventually have two versions: a Major and Regional Oil Company Version open for all to use, and a Comprehensive Version that will available for use by RMCA members in the planned members' section of this website. If this is something that might interest you, all you will need to do to access it is join the RMCA. Annual dues are only $15. For more information, please click the membership tab.
| Company | Issuing Period | Comments & Cross References |
| --- | --- | --- |
| Aguila | circa 1930s-1938 | pre 1938 Mexican marketer controlled by Shell. most maps are undated |
| California Standard of Mexico | 1920s | pre 1938 Cal Standard Mexican subsidiary. map is undated |
| Conoco | 1933 – 1934 | pre 1938. maps had station locations in Mexico marked |
| Gasolmex | 1957 – 1959 | Pemex brand. see, Pemex |
| Huasteca | pre 1938 | Standard Oil of NJ subsidiary; undated; some have small Esso logo |
| Mobil de Mexico | 1958 – 1968 | marketing affilliate of Mobil. pre1938, see Vacuum de Mexico |
| Pemex | 1939 – 1964 | Mexican national oil company |
| Pierce Oil Co. SA de DV (Red Rooster) | 1932? | undated, but cover similar to 1932 Sinclair. post 1932, see Sinclair-Pierce |
| Sinclair-Pierce | mid 1930s | earlier, see Pierce Oil Co. SA de DV |
| Union Oil-Ensenada | 1951 | Mexican distributor for Union 76 |
| Union Oil-Tijuana | 1951 | Mexican distributor for Union 76 |
| Vacuum Oil Co. de Mexico/Magnolia | 1937 | Pre 1938 subsidiary of Socony-Vacuum. 1960s see Mobil de Mexico |
© 2011. Compiled by Jim Wakefield.
This document and its contents are intended for personal use only. Any commercial use, reproduction, or publication of this document and/or any part of its contents is strictly prohibited without the express written consent of the RMCA or its author.